Are you shifting in Rohini, Delhi or shifting from Rohini, Delhi to other places? In both cases you need to hire professional packers and movers who can offer you stress free outstanding moving services at reasonable charges. Do you know anyone who meets these requirements? If no, we would help you to find the best.
Vintage Relocation!! Yes!
If you are moving in or moving out of Rohini, Delhi, Vintage Relocation would be a great option for you as a packers and movers. Why?
Good Question?
Let me answer…
Vintage Relocation is one of the most reliable packers and movers in Delhi who offers top class moving services at reasonable charges. There are 4 major reasons to hire them for moving services in Rohini, Delhi:
Vintage Relocation is Registered Company under Government of India
They have highly experienced professionals team for Moving services
They offers insurances for moving services
They provide 100% safe and damage free moving services and meets timeline.
From the starting date of Vintage Relocation services, company had served their professional moving services to a number of customers in Rohini, Delhi. Some of them were from local shifting and some of them were for long distance moving. Our customers are our assets and for them, Vintage Relocation sets the highest safety measures while moving, which ensures damage free and safe relocation services.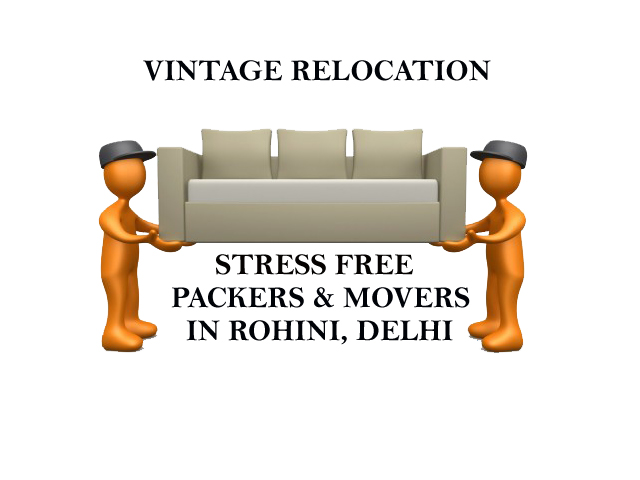 How could you make your relocation stress free?
If you are involved in shifting process without any prior experience, then you could face stress while doing the boring packing process, loading them on the vehicle and unload them in the new place and after that re-arrange them at the right places in your new home. All process could take a long time, which could come up with tiresome and hassled moving services for you. If you do not want any stress while shifting hire professionals who can do these processes in a little time.
Read About: Top 6 Important Questions to Ask when Hiring Packers and Movers in Delhi India
How they make sure 100% safe moving?
To keep household goods very safe while moving Vintage Relocation uses their own packing materials like Cartoon boxes, Foams, Plastics, Mattresses and other organic materials. They do not use their packing materials which were used in previous moving. Vintage Relocation uses very new packing materials for each customer.  They use special safety measures to keep your hard earning items very safe. Packing household goods in boxes are an art, not every person can do it properly. Vintage Relocation packers and mover team members are highly experienced and trained in packing which makes your household goods very safe.
So, when you get safe, damage free, on time delivery without your physical involvement at reasonable charges, then you can say that you got stress free packers and movers services in Rohini, Delhi.