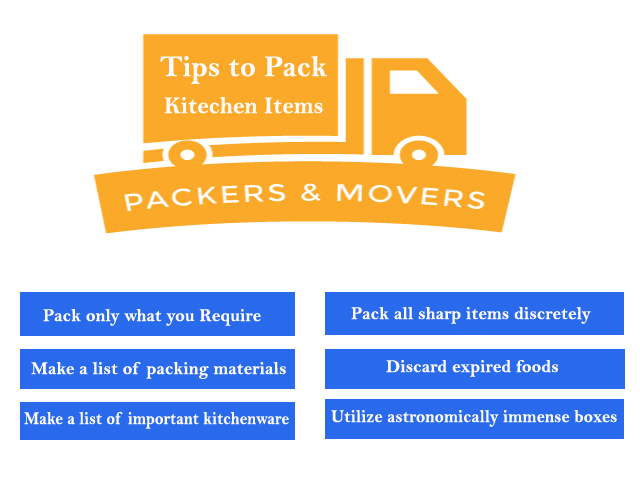 Kitchen items need extra attention to take care while moving. When you decide to move to a new address, your kitchen appliances are the most important items you will need to use when you reach at the new address. As most of the kitchen items are fragile, so, it needs extra care while packing.
Have You Read Our Previous Blog: Finding a Quality Packers and Movers in Your Locality
Here are some tips to pack kitchen appliances before you move.
Pack only what you Require
Mostly we add many appliances in our kitchen that are not necessary for us. These types of items may be in drawers, cupboards, etc. We can move to a new address without them easily. So, make a list and pack only important kitchen appliances which are the most important for you. Time of moving is a great time when you decides what you want in your kitchen and offer the opportunity to leave those unnecessary items.
Make a list of packing materials you will need
You will require small, medium and large size of packing boxes. Your kitchenware will safe in these boxes. From small to large packing boxes will safe your kitchenware from scratch.
Bubble wrap will save your glass and fragile items. Pack and stick all glass and fragile with bubble wrap to provide maximum safety.
Kitchen accessories need to mark properly to identify the most important kitchen tools when reach to a new destination.
Make a list of important kitchenware
In most of the kitchens there are many items which being rarely used, but most of the items you use often. You should make a list, based on priority of kitchenware. You will require those items you often use in your kitchen at your new address, so make most often used items list and pack them in separate boxes. Mark them as most important kitchen box. When you arrive at a new destination you can find your most important kitchenware easily.
Have You Read About: Vintage Relocation: A Loyal Packers and Movers in Delhi NCR
Pack all Knives and sharp items discretely
All knives and sharp items need extra attention while packing. Gather all sharp items in one place with one direction share edge. Wrap those most of their sharp edge direction and keep them in a separate box. When you will go for unpack those knives or sharp items, there would be minimum chances to get hurt.
Discard expired foods
Normally we put our foods in the fridge. Throw all fried or expired foods before moving. Those food items may be Fish, Chicken, Eggs, Frozen food, etc. These foods require fridge on fro freshness.
Utilize astronomically immense boxes for packing Kitchen appliances
We use modern kitchen gadgets. We should read the safety manuals before unplugged them from the kitchen. Some electronic items take a few seconds to unplugged and they may get damaged. You should use large packing boxes to keep them safe.
Read Also: Which one is Most Reliable Packers and Movers in Dwarka, Delhi
So, if you decided to move, please keep all these points in your mind. If you need professional packers and movers services at your door, contact us today.